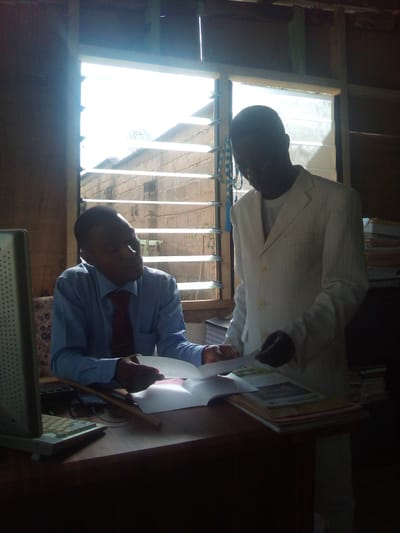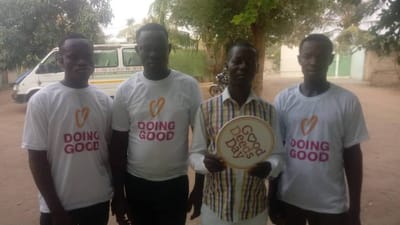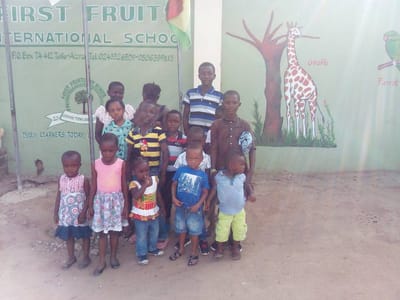 Introduction:
I am Francis Asomaning the leader of (Unique Compassion Soul Wining Foundation) I am not affiliated with any Church, but working Specifically for Our Communities.
If you are looking for a person and his group who are working to help for real Change in our Dying Societies, then you've come to the right place!

I am a Missionary and was born in Ghana in the year 1976. I am leading Faith Base Nonprofit Organization in Ghana as President. I Spend my days working with Families who are mostly in need. Take note that, the Positive Change that we are all looking for in our dying Societies must start from Families who are Mostly in need.

I have attended various Bible colleges and have done several secular courses and still learning and serving as a Missionary in our communities. I believe that it is only God who will determine the final destination of every Single Soul in this land of the living and at the Judgement day. As a leader of the FOUNDATION , i make sure that we extend our help to all the Families we serve.

Vision:
UNIQUE COMPASSION SOUL WINING FOUNDATION is a faith based organization. it is the Foundation that promote Health Care of Families who are mostly in need. Girl Child Education , Support widows, Conflict resolution through Counseling. Youth Development, Gender Education and Safe Motherhood.

Mission;
Reaching the Lost and the destitute Families.
Promote Child Entrepreneurial Skills, Reaching Families who are mostly in need, Organize Driving Skills and counseling through Biblical based for Families among others enhance better life. Educating Drivers with Drivers Union for Road Safety.

We are Faith Base Foundation that concern Families who are mostly in need.

We are Separate Entity that does not affiliated with any group or a Church.
We are not affiliated with neither Convert the Families we serve to any
Specific religious Faith.

As Community Faith Based Organization, all that we know is that, if mountains removed to the sea, the Earth turn upside down and the sky fold like a mat and the whole world Turns against us, All that w e are saying is that love your nab our as yourself, irrespective of age groups, Educational Background, Co lour, Position, Geographical boundary, religious believes ect.

Are you in the position that can Provide good Education, good food, good Drinking water, clot hen, Shoes, job, building, health care ect for yourself and Immediate Families? Then we encourage you to do the same things to an Extended Families who are mostly in need right in your Community where you are located and beyond if you are in the position to do that!

You may not in that position, but there is something that you can do to help. An examples as follows:

- You can help with Creative Ideas, you can help in Kind, in words, in action, encouragement, Counseling , Skills and Prayers.

We have found out in our research that when you tell black man in Africa that you are in Nonprofit Industry, they think that it is only white or Billionaires that must Do Nonprofit Job for the Societies , but we do not believe in that!

I have seen Volunteers who been Sponsored By Others , torching lives in hinterland where there is no hope with their Skills and inculcate in them hope and better life, where some of the Billionaires may not have time to do that.

Join us here now and lets affects Destinies together with your Skills or resources!

Our main Mission is not run a Church, but to help and make impact in our dying Societies through the following Objectives:

-TO EMPOWER CHILD ENTREPRENEURIAL SKILLS, their Families, AND THEIR HEALTH.
-ORGANIZING DRIVING SKILLS WITH DRIVING SCHOOLS UNIONS FOR ROAD SAFETY.
-ORGANIZING COUNSELING THROUGH BIBLICAL BASED FOR FAMILIES.
-Regulation of the activities of providing health care, Education, cultural Services,
EXCLUDING SOCIAL SECURITY.

Why these Objectives?
TO HELP FOR SUSTAINABLE AND COMMUNITY DEVELOPMENT.

Our assistance is purely humanitarian and unconditional. We assist irrespective of race, religion, co lour, class, political affiliation or geographical boundary. We are entirely neutral in our approach in the Families in need especially Children, youth and women.

LOVE YOUR NAB OUR AS YOURSELF:
Do you know how we understand the word love your nabour a s yourself?
It means that, if you see your nabour as a Failure, as a poor, as a Sick, as a Homeless and you do not care about what you can do to help then you do not care about your own life!

Do you know that the one you may help today may be your savoir tomorrow?


DESCRIPTION:
During our Outreach programs we come across the following Issues that Families face:
Lack of Education
Poverty
Teenage pregnancy.
Women and men abused
Drag abused,
Smoking
Jobless
Sicknesses
diseases
Domestic Violence
Prime Mature death through accident, Sickness, Diseases, Stress and Natural disaster.

PLAN TO DEAL WITH SOME OF THESE ISSUES:
We provide the Family Self Entrepreneur in a small scale for the Families to Generate income for themselves that will help their Children Education.

Compassion Soul Winners Outreach International belief in the old proverb that, teach a man how to Fish but not supplying him with fish. Those who get help from Compassion Soul Winners Outreach International for temporal must be able to fend for themselves in Future.

CONCERTED EFFORT:
There are concerted efforts being made by Francis, his team and Backers located in Ghana by empowering Families Entrepreneur Skills, their Education AND health care.

As well as providing them with the basic necessities they need to survive, Such as food Clo then, Shoes Blanker and Study Materials. There were also a conference and the list of events that the group has participated in both in Ghana and South Africa

Compassion Soul Winners is forming Network Partnership Recruitment for the accomplishment of our Projects and also to help like Minded people to accomplish their Mission for a Common goal that is to a chief Sustainable Community Development.

Discrimination:
In our Network, Compassion Soul Winners, will not Practice any Discrimination . What does it mean?
For an example, we are in the Process of Connecting with both large and small Organizations , how ever any one of them who may love to Finish the processing with us in time may be given an Opportunity to lead our projects if they wish.

Volunteer Platforms:
Any Volunteer Platform that may also help us with an Volunteers Organizations, Individuals, group who may love to Sponsor us are also welcome:

What about if all these Network fail:
We believe that those who are intend to Sponsor us are our Audience, there are more audience out there who may love to help and they are coming into their numbers!

COMMUNITY INVOLVEMENT:
With these good Mission with out the Support of local and International Volunteers teachers and Donors, it will be ridicule to accomplish this project.

We are still reaching both local and International Communities for their Support.

Thank God for Board of Directors, First Fruit School and some of International Organizations who are wiling to help!

You can donate both in Cash and in Kind such as Study Materials, Computers for the students, Funding resources that would help with Funding to support Volunteers teachers .
We believe that we have got an audience out there who will love to help.

We are going to apply for Grant, Scholarship and Sponsorship from various Institutions, Organizations and Foundations who may love to assist us and any one of them who may love to assist us for a Successful application to get Scholarship, Grant or Sponsors, may be Offered a leadership Volunteer Opportunity to lead all our projects in the Social Sector, if they may wish to do that and also to assist Skills Empowerment.

Please take note that we do not run School, how ever w e help to Empower Child Entrepreneurial Skills.

Volunteers Teachers from the local and International Communities are welcome to help, Both International and local Communities are welcome for a visit or to donate either in Kind or in Cash to support such a wonderful project.

Network Extension:
As young Organization, we are already reaching various local and International Institutions, Foundations, Companies and Organizations who may love to assist us with Full Funded Grant or Scholarship which would help to enhance our projects in the Social sector.

Network Recruitment:
We are in the progress of Recruiting Filiescoa Driving School located in Accra Ghana, in helping us to Empower youth with Driving Skills and also to Educate drivers for Safety Road transport. It will help to reduce the high level of road accident that is O caring almost every week. We Shall also Educate them for health care.

Objective Projects:
In our Catchment areas at rural areas, w e aim to Establish Agriculture projects with the Families we serve that would help for food Production, food Security that would help to reduce hunger and promote Economic Empowerment.

Why these Projects?:
Is to Save families lives for Sustainable and Community Development

Our Network Recruitment extend to International Either large or small Organizations, Companies, Institutions and Foundations who may love to be part of these movement.
At the moment, we are Co responding with Network application with various Organizations to Find out which one of them will help all and a chief a Common goal.

Are you wondering how you can help?
Please do not let anybody deceive you! If you would love to be our donor and donate CASH in regular BASIS OR Once, please Check our Donation page you will find out Trusted and Secure Offline payment gateway that you can use for wiring trans fare Direct to our Communities through the Foundation.

You are also welcome to Help in Kind especially if you want to help product Donations in Ocean freight Container .All that w e shall need from you is Ship the container form the Origin e to Tema port and leave the rest for us!

You are welcome to run Nonprofit business transation with us for a positive Change

Volunteers are welcome in what ever good way they would love to help.